If you've been checking out any blogs at all lately, you are seeing TONS of great decorating ideas for fall. I adore this time of year, but I've never really decorated for it. I'm totally inspired this year, though.
This is what I've done with my mantle so far!
Headstone, blackbird, gray material & skull are from the dollar store - great finds!
See that tiny pumpkin? It came in a bag of miniature gourds for a buck! I spray painted it with Krylon Champagne Nouveau in a satin finish.
I spray painted a pie pumpkin with a black gloss spray paint. I thought it needed a little something extra so I did a VERY light spray of the Krylon Champagne paint (in the wind, no less). It gives it a nice sheen.
As I do little projects I'll make sure to show them to you all here!
If you've got pictures of projects you've done, I'd love to see them!
I'm linked up here: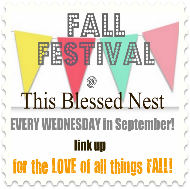 And
The Stories of A to Z
And
Debbiedoos